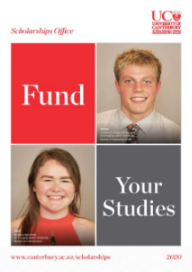 Applications for Year 13 students to apply for University of Canterbury 2020 scholarships are now open.
Even with the fees-free scheme, there are still a lot of costs students and their whānau need to cover when it comes to tertiary education. Please encourage your students to apply for the scholarships, grants, and awards we have on offer.
The closing date for most scholarship applications is 15 August 2019.
Our range of scholarships can be found either on our website or by downloading a copy of our Fund Your Studies brochure. If you would like copies of this brochure please let us know and we will get some in the post for you.
Each scholarship has different eligibility criteria (eg, subject/course, level, citizenship, age, gender, ethnicity, school, region, etc), so it's important that your students check the details to see if they meet the criteria.
Steps to help you apply
1. Create a myUC account
This is our online portal and the entry point for anyone considering studying at UC. Click here to create an account.
2. Go to the UC Prospective Students Scholarships Portal
Click here to be taken to the portal. From there you need to click the red 'Apply' button which takes you back to myUC.
3. Log back into their myUC account
You will now be directed to the scholarships application page.
Our advice
Students should apply for all the scholarships they are eligible for as it's often possible to hold more than one scholarship.
Scholarships are very competitive so it's important you stand out from the crowd. Take the time to write an application that reflects all of your achievements and involvement.
If you have any questions or are needing assitance please do not heistate to get in contact by calling 0800 VARSITY (0800 827 748).
Ngā mihi
UC Liaison Team | Te Rōpū Takawaenga
University of Canterbury
Te Whare Wānanga o Waitaha
Private Bag 4800, Christchurch 8140
New Zealand
Free call: 0800 VARSITY or phone: +64 3 364 2555